In the community
Our passion for singing is one we love to share with our community. Where we have the opportunity to do so, we enjoy performing at charitable events, or simply sharing music with people who enjoy it but are unable to attend concerts. We have also enjoyed performing the national anthem at numerous sporting events over the years. We joined five other Ottawa choirs at St. Thomas Anglican Church in 2017 and 2018 in support of Stittsville Food Bank fundraisers.
If you would like us to perform for you, please use the link on the 'Contact Us' page.
2023 Let's Have Some Music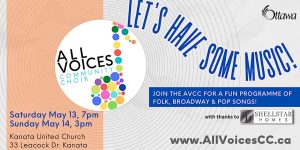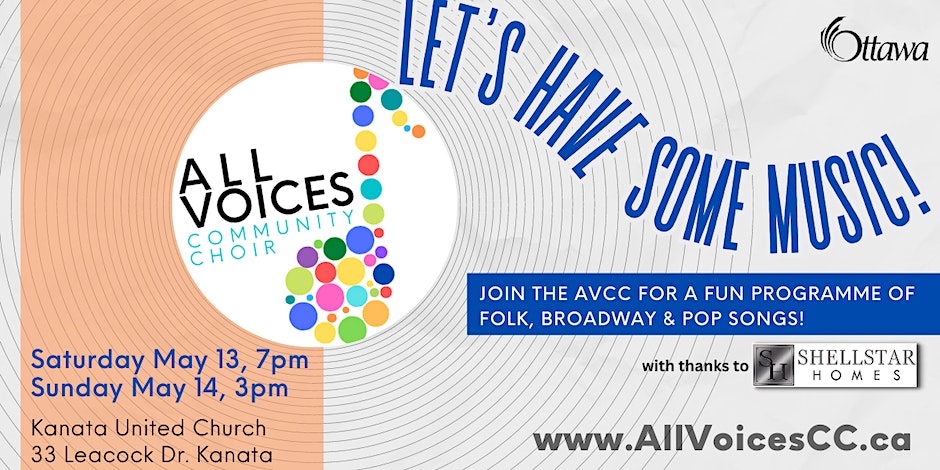 2023 Fauré and Friends Concert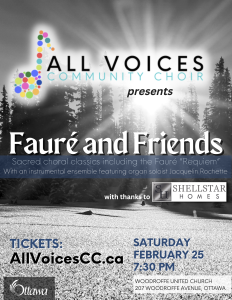 2022 Fall Concert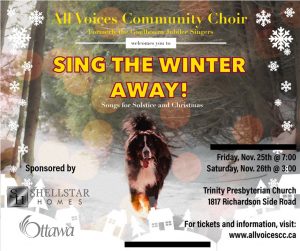 2022 Spring Concert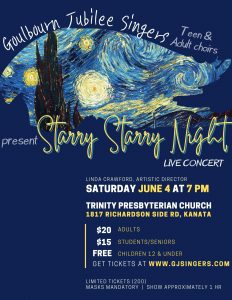 2021 Christmas Livestreamed Concert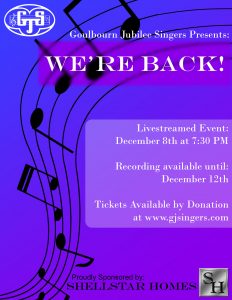 2020 Ceilidh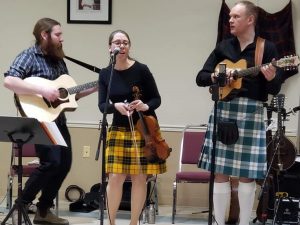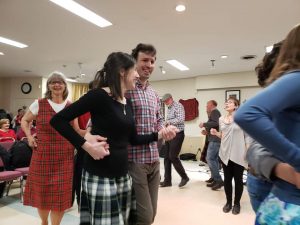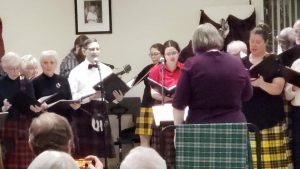 2019 Christmas Concerts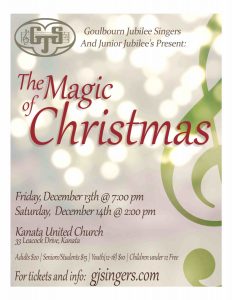 2019 – Spring Concert Collaboration with Autorickshaw
This eclectic choral concert included beautiful songs from around the world, with lyrics in English, French, Spanish, Portuguese, Estonian, Arabic, Hebrew and Latin.
Our special guests were Autorickshaw, winners of the 2018 Canadian Folk Music award for World Music Group of the Year, and nominees for the 2018 JUNO award for World Music Album of the Year. This ensemble featured vocalist Suba Sankaran, bass guitarist and beatboxer Dylan Bell, and tabla artist Ed Hanley. Autorickshaw's music lies on the cultural cutting edge, as their contemporary Canadian folk blends with the classical and popular music of India. Formed in 2003, Autorickshaw have toured extensively across Canada, including appearances at Montreal, Vancouver, Guelph, Calgary and Toronto Jazz festivals, Vancouver and Winnipeg Folk festivals, Glenn Gould Studio, Stratford Festival and the Sound Symposium in Newfoundland.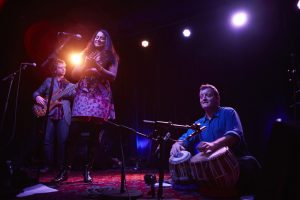 2019 – Collaboration with the Canadian Chamber Choir
2018 Christmas Concerts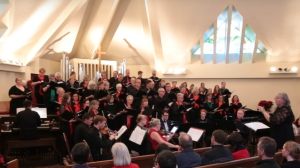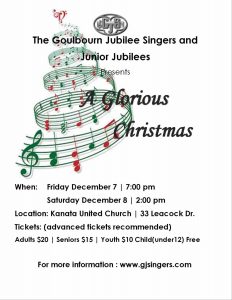 2018 Spring Concerts
Stronger Together was the social message for our 2018 Spring concerts, held on May 5th in Ottawa and May 12th in Vankleek Hill. Our adult and youth choirs of GJS and Acquire presented a repertoire inspired by lyrics of togetherness and empathy. A grant from the Proud to be Me Foundation provided funding for much of our new sheetmusic on this theme.

Youth and Adult Choirs of GJS and Acquire – May 5, 2018, Ottawa
Musical Direction by Linda Crawford and Rosemary Harden
Photo Credits: Jan Amell Photography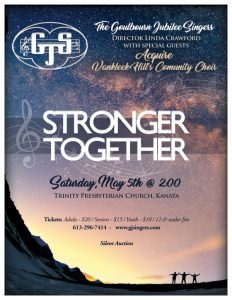 Ceilidh (March 2, 2018)
Thank you to everyone who joined us for a rocking evening of Celtic entertainment. Our stage at the Kanata Legion was complete with outstanding talent and we were fortunate to sell this event out.
We enjoyed listening to the Sarah Burnell Trio perform several sets and provide music for the dance sets. The trio consisted of Sarah Burnell, Paul Mills, and Graham Lindsey.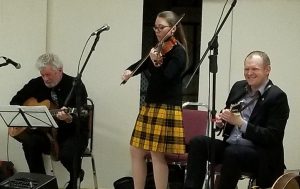 The Goulbourn Jubilee Singers sang a Scottish set (Skye Boat Song, Loch Lomond, and Mairi's Wedding) and an Irish set (Danny Boy and Tell my Ma). The GJS Men added a treat with the song Mary Ellen Carter. It included five soloists including Paul Mills, singing and playing the 12-string guitar of his old friend Stan Rogers.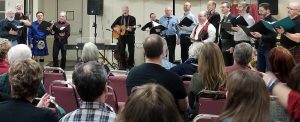 Ciarán MacGillivray sang and played some of his and his father Allister's songs. And the terrific a cappella quintet Nothing But Treble rounded out the evening with several sets of songs.
The choir appreciates your support and the responses from numerous people who enjoyed themselves greatly. We're thinking of holding another Ceilidh in the future, encouraged by its success.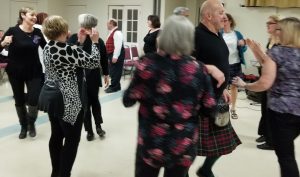 40 Years Young!
We've been singing for a long time. Read our GJS Chronicles to find out what we've been doing all those years!
"We're Ready For Christmas", our Winter 2017 Concert featured compositions by Ola Gjeilo, Gordon Lightfoot, and Oscar Peterson. We were thrilled to perform a world premiere composition by Ottawa area composer Stephen Eisenhauer.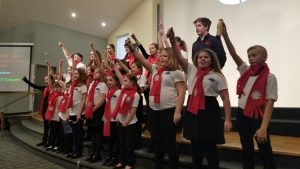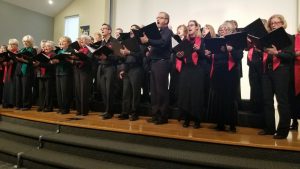 "Made in Canada – A 40th Anniversary Celebration", our 2017 Spring series featured guest choir Command Performance of Picton, Ontario, with whom we made an exchange. We joined them again in Picton for our "Sesquicentennial Celebration Concert". The performances featured three world premieres of pieces commissioned for the occasion by composers Laura Hawley, James Wright and Stephen Eisenhauer.
"Christmas Jubilee: Our 40th Anniversary Season", December 2016, beginning the concert series.
"Sing a Song For Nature", our 2016 spring concert and first time at a new venue.The theme was our environment in all its various forms. We included old repertoire such as Gjeilo's Northern Lights, Erb's stunning arrangement of Shenandoah, along with new material, including Evening Star, a beautiful arrangement of a surprisingly lovely Edgar Allen Poe poem.

"Charlie Brown's Christmas" On December 3, 2015 at Dominion Chalmers Church the Junior Jubilees joined the Jerry Granelli Trio for a live performance of Charlie Brown's Christmas to a sold-out crowd. The children sang the three pieces from the original television show: Hark the Hearld Angels Sing, a piece called My Little Drum which is a jazz version of Little Drummer Boy, and Christmas Time is Here.  This is the second time the JJs have performed with the Trio.  Read more
"Big Screen, Little Screen" 
Our Spring 2015 concert was fun from first rehearsal to last line of the finale. Featuring familiar TV themes and songs from major motion pictures, which lent itself to choreography and props, most audience members could sing along throughout the show. We premiered a new arrangement of classic Canadian TV themes (everything from Don Messer's Jubilee to Skinamarinky doo).

"Why We Sing" A repertoire that explores all the reasons GJS choir members sing – for life, in response to nature, to tell a story, in response to art and artists, for fun, for spiritual nourishment, to support and encourage each other, for inspiration, for love and as part of a community. Rich in songs written or arranged by Canadian composers, this was the subject of our CD launch concert in 2014!
"Alphabet Soup" Our spring programme in 2013, this was a spirited collection of song with titles from A to Z – The Alphabet Song to Zip-a-dee-dah. The repertoire included madrigals, Canadian arrangements of traditional music, jazz numbers and spirituals. Our challenge piece was in 10 part harmony "Io Son La Primavera".
"Celtic Celebration" We began our 35th anniversary celebrations with a wonderful series of celtic concerts, in collaboration with the Siamsa Singers, from Montreal. We sang three concerts together, including many Scottish, Irish, and Welsh folksongs, and including some great celtic instrumentalists. After the shows, in Montreal, we all enjoyed a great ceilidh together, too! Choirs that sing well together also party well together!
"Changing Seasons, Changing Light" This concert, in late November, took our audiences on a musical journey from Fall, into Winter. Selections included In Flanders Fields, Cantique de Jean Racine, Midwinter, and other seasonal favourites.
Festival Mondial Choral The GJS has been pleased to perform at three of the wonderful choral festivals Mondial Choral, in Ville Laval, Montréal. We have really enjoyed singing in the lovely venues that are part of that festival, and also performing La Messe Québecoise (Houdy) in local churches. The audiences at that festival are fantastic supporters of the choral art.
"Handel and Holly." The Christmas section of Handel's "Messiah", plus lighter Christmas carols and songs.
"Going Home" This programme featured songs from around the world, on the theme of "Home", interspersed with appropriate readings. Some our favourites were "Going Home", "Shenandoah", "Loch Lomond", "Un canadien errant", and "Streets of London", many of which were arranged by Canadian composers.
Kaleid Choral Festival, with Rajaton  GJS was thrilled to be part of this excellent choral weekend, where we enjoyed working with Jackie Hawley and Jennifer Moir. Of course, collaborating with the Finnish super-stars, Rajaton, was exciting! GJS was the only non-auditioned community choir to be invited to this wonderful new initiative in the Ottawa choral community.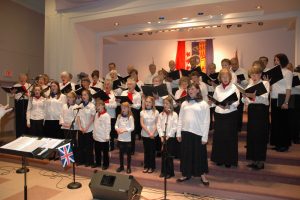 "Rule Britannia" This programme featured many favourites from England, including patriotic songs, folk songs, madrigals and motets, and pop hits. We had great fun, with special guests trumpeters Ruth Merkely and Carl Fraser. We were honoured with the presence of His Excellency, the British High Commissioner, who, it turns out, is a choral singer himself!